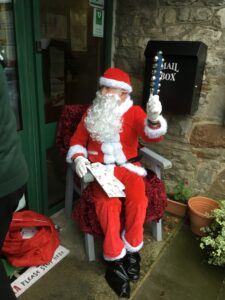 The children enjoyed party games followed by a buffet lunch and a premier of their Nativity performance. There are certainly some stars in the making!
Bells were heard and a glimpse of Santa seen by some of the children before he was greeted like a rock star by everyone at Hartington School on the final day of the term. They were thrilled to receive their gifts with the help of the resident Elf of the school, before having their photo's taken through the window to commemorate his flying visit.
Santa informed us that he had a very tight schedule due to their being no one on the naughty list this year, and he had heard all the way at the North Pole about their virtual Nativity performance and how hard they had all been working.