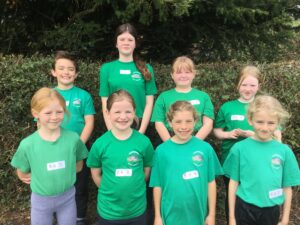 On Monday 13th September years 3/4/5 & 6 pupils joined Biggin to become "BiggHarts"  and take part in a 'Cross Country' event at Parwich. We were joined by Parwich, Ilam and Fitzherbert Primary Schools.  the event involved the Years 3/4 pupils undertaking a course with a distance of 1,150 meters (3/4 mile) and the year5/6 pupils 1,500 meters (just under 1 mile).
It was lovely for the pupils from cluster schools to join together and take part in Inter competition which sadly they have been unable to do for such a long time.
Some pupils found the course arduous, but in typical BiggHarts style they 'dug in' and completed the event with smiles on their faces. Well done everyone.