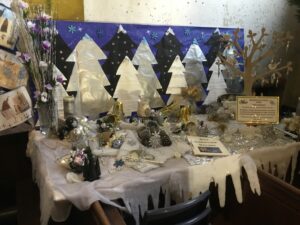 As part of the end of term Christmas celebrations the children performed their annual nativity in St Giles Church called 'Strictly Nativitv'.  (Don't forget to visit the schools Christmas display in the South Transept of the church). The performance was followed by the PTA 'Pea & Pie Supper' which this year came in the form of a hearty stew in a Yorkshire pudding, kindly prepared by Mrs Stubbs the schools catering officer. A huge thanks goes to Lower Hurst Farm who generously donated the meat. The evening was a massive success raising a fantastic £1727.40 after expenses for the PTA. Thank you to everyone who bought raffle tickets and donated in any way.
The following day the children enjoyed a visit to Buxton Opera house to watch the pantomime 'Cinderella'. This was enjoyed by all who attended. "Oh No it wasn't." " Oh Yes it was!"
On the final day of the term, the children performed a Christmas carol concert in school to governors, parents and members of the community. This was followed by a buffet lunch for the children and staff, a Christmas party with games and a visit from Santa and his elves! School closed at 3:30 for the Festive season.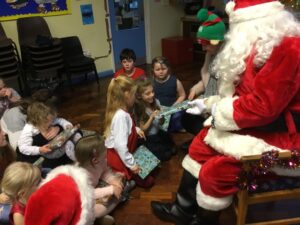 The Head teacher, staff and Governors would like to wish all parents and supporters of the school a Happy Christmas and Best Wishes for 2020. School will reopen on Monday 6th January at 7:45 (7:30 by prior arrangement) for breakfast club.